Where to Eat in Yuma When You Need a Break
November 13, 2019
Sometimes you just need a break from the predictable routine of the everyday. And let's face it, you can stare at the fridge for the next five minutes but you likely won't find much that will appeal to you as much as savoring a mouth-watering porterhouse steak. Go ahead, you know that you'll love dining in Yuma.
---
Read on to learn about where to eat in Yuma:
Market Wine Bar Bistro
Based on the ground floor of the Yuma Radisson Hotel, the hotel's restaurant is one of the city's go-to spots for upscale dining in Yuma. You'll enjoy the vibrant dining room, luxurious lounge, and picturesque patio terrace. Discover an eclectic mix of New American and Greek flavors with a special emphasis on steak and seafood. Customer favs are the 16-ounce center-cut porterhouse steak and the seared mahi-mahi with basil butter sauce and marble potatoes.
– Located at 1501 S. Redondo Center Drive, Yuma.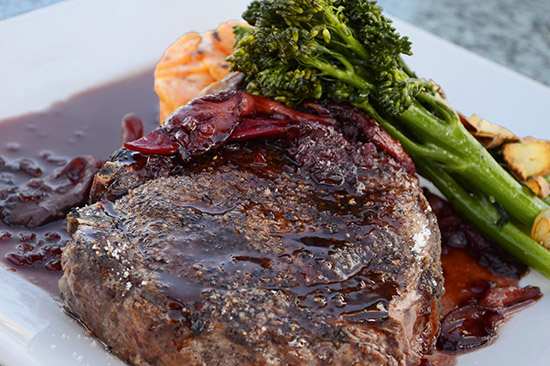 River City Grill
This hip, and urban-themed eatery attracts many diners, and the incredibly diverse menu keeps them coming back again and again. Enjoy the likes of mustard-crusted halibut with spinach ricotta ravioli and olive tapenade or Indian curried shrimp on a bed of basmati rice with mango chutney. Lots of vegetarian, vegan, meat and gluten-free options, too.
– Located at 600 W. 3rd Street, Yuma.
The Garden Cafe
Only a short stroll from Yuma's revitalized Colorado riverfront and the Yuma Quartermaster Depot State Historic Park, the Garden Cafe is a seasonal eatery open from October thru May. It's best known for its beautiful location and hearty breakfasts, lunches and Sunday brunches. Guests enter via a side street courtyard and follow a winding path that leads to a picturesque secret garden full of leafy lemon trees and vines. The usual favorites are: steaks, soups and salads, and specialty sandwiches.
– Located at 250 S. Madison Avenue, Yuma.
---
About Friendly Acres RV Resort
Friendly Acres RV Resort, located by historic downtown Yuma, Arizona has been known since 1971 as a desirable retirement destination, with numerous activities and planned events happening throughout the winter season. They offer big rig access as well as pull-thru sites, offering water, sewer, and 30/ 50 amp electric service.
Reserve your spot at: www.friendlyacresrv.com/reservations/.