Meet the Managers of our Yuma RV Resort and Campground
October 24, 2019
If you've been here before, you know that Friendly Acres RV Resort offers stellar accommodations and activities for all of our 55+ residents. What you might not have known is that the management team puts a great deal of effort, planning and time into making your Yuma RV resort and campground experience as fun and memorable as possible.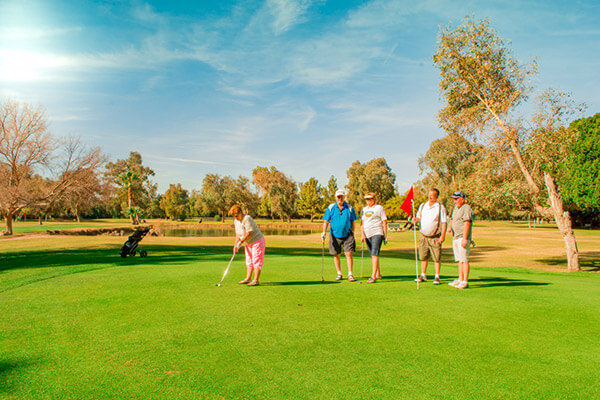 Yuma RV Resort Management Team
We'd like to take a moment to say: "Thank you," for all of their hard work, dedication and commitment. We're lucky to have them, and we're sure that you agree. Meet our on-site management team, husband and wife: "Jim and Lynn."
1. What makes Friendly Acres special?
Jim: "The first two words: 'Friendly Acres.' We all live up to that commitment every minute of every day. It's not just a job. First and foremost, we're here for the residents. It's all about giving them everything that we've got, listening to them, and being around them. My wife Lynn, along with 130 volunteers and a great support staff, all combine to form the team here. Without their dedication and hard work, this would not be possible."
2. What attracted you to join the Friendly Acres team?
Jim: "My wife and I started working here when the owners-Jimmy & Joe Watson-bought it in 2017. But I've worked for them since 2011, and I've been in this business since 2003. Prior to my 'retirement' I managed full-service country clubs for 26 years, and before that spent more than 20 years in the U.S. Air Force. My wife (Lynn) worked as a hotel general manager for Best Western, for the five years prior to her retirement. Now, we're both happily retired, and enjoying what we do more as a passion."
3. What do you most enjoy about working with Friendly Acres?
Jim: "I love living here, in Yuma. Lynn and I will stay here until we're done. At times it feels like a fun hobby, working here, and I can only thank the owners, Jimmy and Joe, because they're really amazing people. And I'm blessed to have had all the wonderful things that have come my way: raised nine children, my loving wife, Lynn, a great team of coworkers, and wonderful tenants who make it a great experience."
Friendly Acres is a premier 55+ Yuma RV resort and campground that offers spacious RV sites, gated entry, and unmatched convenience. Reserve your stay at Friendly Acres RV Resort today!